After going through lots of theories and experiments, manufacturers, at last, came up with two of the best materials that can produce the exact carbon copy of a real life partner in the form of a sex doll and they are Silicone and TPE(thermoplastic elastomer).Love dolls made of TPE with a stable metal skeleton or a classic real doll made of silicone - the development tends to increasingly realistic models that can even be equipped with robotics.For both silicone and TPE dolls, it's a good idea to give them a shower once or twice a month.Both TPE and silicone are durable, soft, and totally safe, so they won't cause harm on coming in contact with skin and delicate parts of the body..Avoid leaving it in direct sunlight, and NEVER store TPE and silicone dolls together - the materials are incompatible and can react with each other.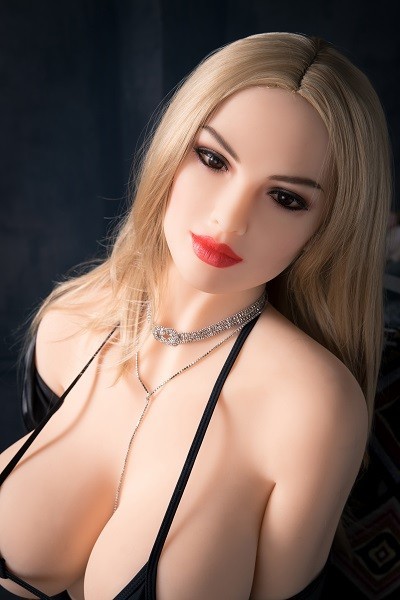 Then,TPE vs Silicone Sex Dolls -Which is Better for you?
First ,what is TPE?
Since 2012 or so a thermoplastic elastomer alternative known as TPE has come into common use particularly by Chinese manufacturers which has enabled realistic dolls to be made which are cheaper than those composed of the high quality expensive platinum cure silicone 23. TPE has become more popular, may you know the TPE is a new type of silicone, which can be stretched up to 5.5 times length, so it makes our lover dolls very very softy! TPE material having a high molecular weight are more excellent elasticity, the thermoplastic elastomer having a non-toxic environmentally safe, wide range of hardness, has excellent coloring, soft touch, weather resistance, fatigue resistance and temperature resistance, excellent process ability, not curing, processing efficiency is higher than the rubber to be recycled to reduce the cost, either the second injection molding, and PP, PE, PC, PS, ABS and other adhesive coated substrate material may be separately formed.Thermoplastic Elastomers (TPE) , which is usually referred to as Thermoplastic Rubbers by many, is a copolymer that's made by mixing two or more materials with thermoplastic and elastomeric properties. TPE does tend to get sticky after washing but powdering quickly solves this and leaves the material feeling silky smooth. TPE is suitable for both water-based and silicone-based lubes, and the stretchy material makes it great for dolls which require some more maneuverability.
The pros and cons of the TPE sex dolls:Silicone dolls have been around for generations, but doll creators have only recently mastered the art of making TPE sex dolls.One of the reasons doll manufacturers have switched to TPE is because not only is TPE cheaper, but it is equally high quality and softer (more realistic feeling than silicone)TPE love dolls look incredibly realistic while generally costing less than silicone ones. TPE sex dolls are starting to become very popular, as they feel more realistic, flexible and soft that can mimic the human skin pretty accurately. TPE has a very similar texture to human skin, which provides a more realistic experience compared to silicone.The TPE material of the love doll also provides wonderful heat storage.Silicone dolls generally feel slightly harder, while TPE soft rubber dolls are very soft; of course, silicone dolls can also be done quite soft, but the cost will increase a lot Since a quality TPE sex doll is costly, you should do everything in your power to take good care of it. TPE dolls that are not properly taken care of can start to feel tacky and feel sticky over time. TPE dolls need a little more care than silicone dolls.The other  shortcoming is the high price, the high-end TPE material used in the real silicone doll, plus the entire metal skeleton, mold design and development, head sculpture, etc., as well as plant, equipment investment, makeup artist, sculptor and molder.If you have low budget, you should choose a TPE sex doll If your budget is higher than $2000, you can consider getting a silicone love doll.
Second ,let's talk about what is the silicone dolls.Silicones come in several forms such as Heat cured rubber (HRC)Silicone dolls are made of silicone (no surprises here),Silicones are materials that are thermoset and have a chemical structure based on chains of oxygen and silicon atoms attached to organic groups are silicone atoms.
The advantages and disvantages of the silicone love dolls.For silicone sex dolls, cleaning and overall maintenance is very easy because the material is heat-resistant, stain-resistant, and non-porous.so ideally, silicone dolls are matchy-matchy in your swimming or bath sessions.which means you can integrate heating functions as well as enjoy warm showers with a realistic silicone sex doll but not with a TPE sex doll.Because silicone sex dolls are more expensive, manufacturers usually use better materials for the skeleton of silicone models than for TPE models.Pro Tip: While silicone-made sex dolls might have more refined body parts such as the mouth and vagina, TPE is far squishier, especially on protruding features like the butt and boobs.We are safe in the knowledge that our silicone love dolls are durable, reliable and flexible, since they are made with the finest quality medical-grade silicone.The performance of the silicone doll is better than that of the TPE soft plastic doll; because of the slightly harder material, the expressiveness will be better; some simulated handprints and details can only be expressed by the silicone doll, and the TPE soft plastic doll does not perform well.some men feel that the vaginal and anal openings are more realistic on silicone sex dolls.Once again, we only use the finest materials, including platinum cured silicone which, although it is much more expensive than TPE, is a vastly superior material..Our custom silicone sex dolls are made from the highest quality medicinal grade silicone. TPE material is much softer and more realistic than silicone and hence needs extra care and maintenance.Every silicone material TPE sex doll has been manually made to emulate her female counterpart, not only in appearance but also in her softness When choosing between TPE and silicone dolls, you should consider the opportunity cost and vulnerability of additional maintenance - it turns out that silicone dolls are actually more cost effective!Silicone dolls were at first made from tin-cure silicone but platinum technology has better longevity, less prone to tears and compression marks.Because of their ability to be posed in different positions silicone dolls are popular with artists and photographers as models.Silicone dolls generally feel slightly harder, while  TPE soft rubber dolls are very soft;So yes, you can have clear Silicone, but there are downsides to it. Clear Silicone products usually require a different kind of plasticiser and curing agent like hydro peroxide which make them unsuitable for molding into sex toys.